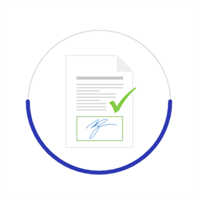 DocuWare for Electronic Signature
Your company has a lot of important documents that need to be reviewed and signed by different individuals, but how can you be sure they are routed properly and are signed by that specific employee, customer, or vendor? DocuWare for Electronic Signature enables documents to be signed with electronic signatures as part of automated workflows and signatures are authenticated using a verified Trust Service Provider. You can choose to use DocuSign or Validated ID.
The document is sent directly from the workflow to an external Trust Service Provider for advanced or qualified signing. Once the identity has been verified and the document signed, it is automatically sent back to DocuWare.

Click here to learn more.
Brand :
DocuWare
Category :
Software Solutions