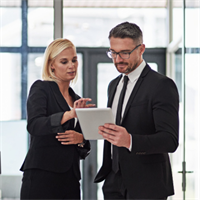 DocuWare Forms
DocuWare Forms enable your company to convert recurring manual form filling and filing processes into a simple digital process within DocuWare. This tool is invaluable for today's mobile workforce.


Easily and quickly build forms, and then share them with a link. Forms can also be integrated on a website where all visitors can complete and submit a form. Now your respondents only need to fill out one web form instead of multiple paper forms with redundant questions.

Data is captured instantly and accurately in the web form, applied to a document and stored as a form in a central file cabinet. The completed form can even be stored in the design of the original form. Employees then easily access and work with the stored forms. With DocuWare's Workflow or Task Manager, forms can be automatically routed to different employees who need to take different actions on them. Workflow audits show you where any form is in the process.

Click here to learn more about streamlining your forms processing.
Brand :
DocuWare
Category :
Software Solutions