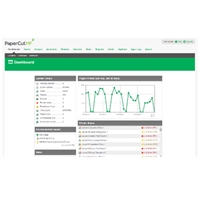 NG
Cut the cost of printing. PaperCut is the easy way to automatically monitor and manage printing in your organization, giving you control over your costs and environmental impact.
The PaperCut software intercepts print jobs on the print server and analyzes them, applying rules to enforce your print policies.

​​​​​​​PaperCut gives you full control over your fleet of devices, letting you manage and control printing using tracking, quotas or pay-for-print charging; support laptop and netbook users with driverless printing; apply rules based print policies to minimize waste and maximize productivity, e.g, to prevent printing of emails, require large jobs to be duplexed or restrict color printing; monitor your print fleet, with toner level detection and printer error alerts by email or SMS; monitor your print jobs with thumbnail style viewer.
Suitable for networks of 5 to 500,000+ users

Single server or multi-server environments

Monitor locally attached printers

Client software is optional

Available in 20+ languages and currency formats world-wide
Brand :
PaperCut
Category :
Software Solutions