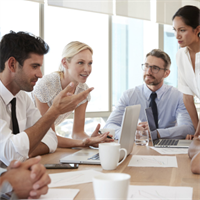 Workflow Manager
With DocuWare Workflow Manager, you optimize your efficiency and productivity by establishing clear rules for processing documents. Using a high-performance, intuitive interface you can easily create and edit simple to highly complex workflows without the need for programming.

For example, you can assign tasks and define substitution rules in case an employee is out of the office. You can also determine what kicks off a workflow, for example, storing an incoming invoice. All processes are tracked for quick status updates and total transparency.

DocuWare Workflow Manager empowers you to set up precise rules for handling documents, data and decisions with deep levels of control and transparency. Achieve:

• Transparency
• Defined escalation stages
• Clear company processes
• Task completion quickly and easily
• Greater efficiency, nothing is overlooked

​​​​​​​Click here to learn more.
Brand :
DocuWare
Category :
Software Solutions